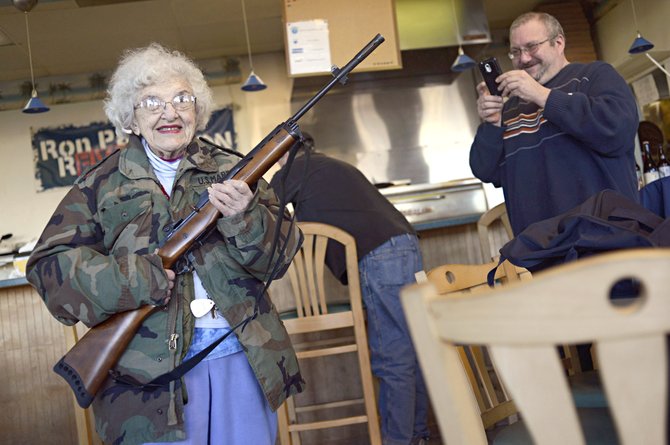 Armed Customers Get Deal
Lee Lazernick, right, asked his mother Thelma Lazernick, left, to pose with a customer's Ruger Mini-14 .223 semi-automatic rifle on Feb. 18, at All Around Pizza and Deli in Virginia Beach, Va., where customers wearing weapons or who bring their concealed weapons permit are offered a 15 percent discount.
Stories this photo appears in:

Google stock price tops $800 SAN FRANCISCO (AP) — Google's stock price topped $800 for the first time Tuesday amid renewed confidence in the company's ability to reap steadily higher profits from its dominance of Internet search and prominence in the increasingly important mobile device market. The milestone comes more than five years after Google's shares initially hit $700. Not long after breaking that barrier in October 2007, the economy collapsed into the worst recession since World War II and Google's stock tumbled into a prolonged malaise that eventually led to a change in leadership. Court to look at spending limit WASHINGTON (AP) — The Supreme Court will hear a challenge to campaign finance laws limiting how much an individual can give to political campaigns. The justices on Tuesday decided to hear an appeal from Shaun McCutcheon of Alabama and the Republican National Committee. They are arguing that it's unconstitutional to stop a donor from giving more than $46,200 to political candidates and $70,800 to political committees and PACs.