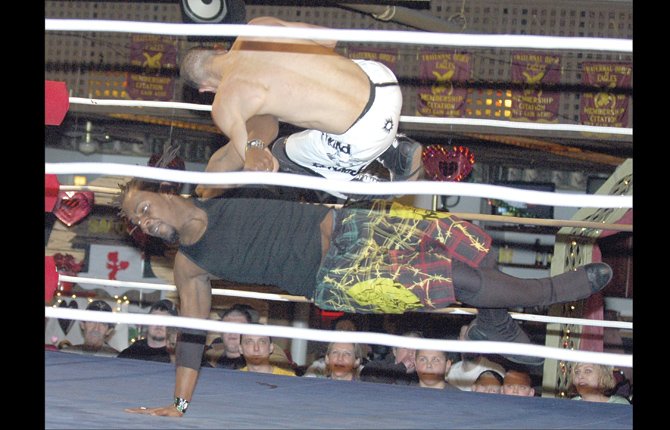 Portland Uncut wrestler Quiz, out of Houston, Texas, flips over his opponent C.J. Edwards, of Long Beach, Calif. during their match Thursday night at the Eagles Lodge in The Dalles. A crowd of 200 from towns all over the state ranging from Oregon City, Salem, Gresham and Hood River converged for six action-packed matches of wrestling. There were moments of eye-gouging, slams, suplexes and flying elbows thrown throughout the evening. In attendance were top wrestlers Buddy Highway, "Gentleman" George Michaels, Bubba Blanchard, Patrick Large, the son of "Rowdy" Roddy Piper, Colt Toombs and wrestling legend "Maniac" Matt Borne.
Stories this photo appears in:

The raucous crowd of 200 filled The Dalles' Eagles Lodge Aerie 2126 with boisterous chants of U.S.A.!, U.S.A.!, U.S.A.! while Oregon City resident Buddy Highway locked wrestling horns with England's own 'Gentleman' George Michaels in the first bout of the night. Edwards, Highway and a slew of grapplers including 'Maniac' Matt Bourne, tag team champions Bubba and Jeremy Blanchard and the son of 'Rowdy' Roddy Piper, Colt Toombs, were on display Thursday during a filming of Portland Wrestling Uncut. Highway won his match and exited stage left to a cascade of cheers from the crowd — a great patriotic way to start.