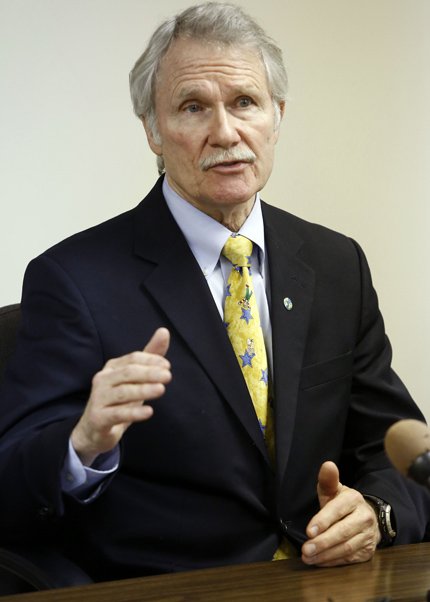 Oregon Gov. John Kitzhaber speaks during a meeting with Oregon newspaper publishers and editors Jan. 15 in Salem. With his health care reforms starting to roll out in much of Oregon, Kitzhaber is turning his attention beyond the borders with a pitch to other governors in a private session in Washington this weekend. Kitzhaber said he's hoping to get three or four governors from each party on board with his push to change the way doctors are paid and patients are treated.

Stories this photo appears in:
PORTLAND, Ore. (AP) — Gov. John Kitzhaber has provided the required five-day notice that he might veto a bill that loosens a ban on the use of Native American mascots by Oregon schools.

SALEM — Oregon Gov. John Kitzhaber will brief other state leaders this weekend on his plan to lower Medicaid costs, touting an overhaul that President Barack Obama highlighted in his State of the Union address for its potential to lower the deficit even as health care expenses climb. The Oregon Democrat leaves for Washington, D.C., on Friday to pitch his plan that changes the way doctors and hospitals are paid and improves health care coordination for low income residents so that treatable medical problems don't grow in severity or expense.