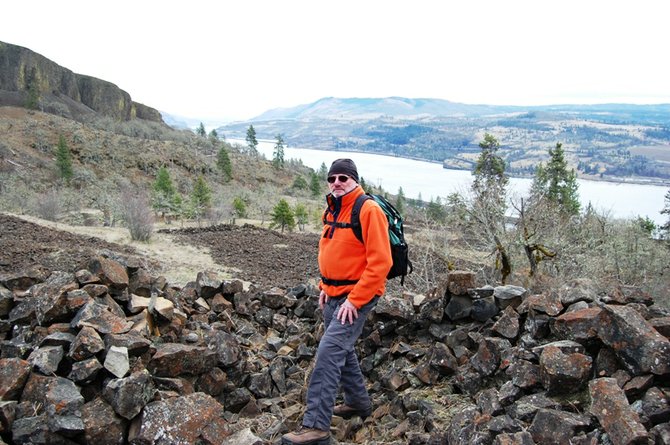 The author stands at one of the larger rock walls and pits.
Stories this photo appears in:

After hiking Washington's Catherine Creek Natural Area we usually drive west on Old Road 8 to where it connects with Hwy 14 and then head home. Over the years we have ignored a small trailhead coming in from the north just before Rowland Lake. This week we decided to see what we were missing. Well, we were missing a lot. The area between Catherine Creek and the Mosier Syncline has had human activity for hundreds if not thousands of years. Native Americans have been active here for a very long time. In the 1900s, homesteaders began busily building homes, farms, ranches and other undertakings. Roads were a big problem back then. Highway 8 wasn't built until 1910 and Highway 14 didn't come along until the mid 1930s. That meant the homesteaders had to build goat-track roads up and over the walls of Rowland Basin and Mosier Syncline to be able to drive to Bingen and beyond.