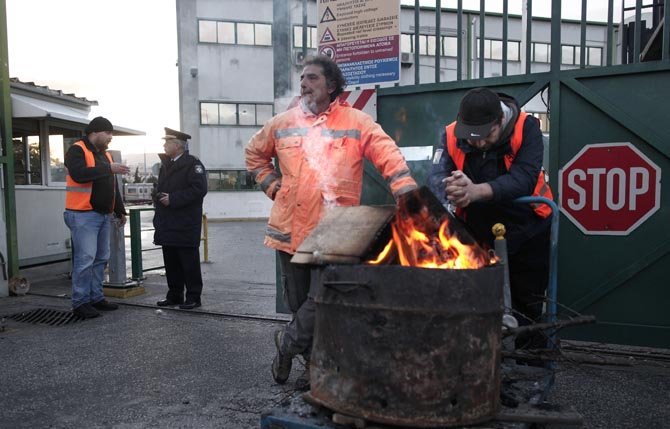 STRIKING METRO worker stand next to the fire at the entrance of subway train depot in Athens Jan. 25. Riot police in Greece stormed a subway train depot in Athens, where striking workers had barricaded themselves. The government issued an emergency order to force them to end an eight-day strike in an escalating standoff over austerity measures. Police broke through the gates and removed dozens of strikers in Friday's pre-dawn raid. AP Photo/Petros Giannakouris
Stories this photo appears in:

ATHENS, Greece — Striking subway workers in Athens returned to the job Friday, hours after the Greek government used riot police to evacuate holdouts from a train depot, ending a bitter standoff over new austerity measures. The nine-day strike — which knocked out a system serving more than a million people a day — was the biggest labor unrest Greece's uneasy, conservative-led governing coalition faced since taking over last June.