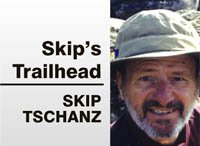 Stories this photo appears in:

Call it global warming. Call it climate change. Call it a whim of Mother Nature. But whatever name you give it this winter has been a disaster for the winter sports industries, wheat farmers and orchardists.

Hey, the bald eagles are back and their numbers are increasing daily. Oregon and the Columbia River Gorge are on the migration route for bald eagles from everywhere from Alaska, Yellowstone National Park, California and Arizona.

Well, Janet and I have done it again. We have wasted another summer wandering single lane forest service roads looking for the next greatest hiking trail. We have run into our share of road hogs who think they are driving in downtown Portland. We have pointed more than a few disoriented people in the right direction. That said, we have had another great year roaming the trails of the Columbia River Gorge and Mount Hood.

For a half-century the National Wilderness Preservation System has protected the forest primeval for all

I don't know about you, but I find most family reunions tedious at best. Not because of the folks I get to see once a year, but where we hold the reunion.

So far this hasn't been the best year for Janet and me to put our kayak in the river and go for a nice easy float down the Columbia River.

Oneonta Creek flows through a land that time forgot. Lush vegetation struggles with raw basaltic rock for growing room. Rich winter rains give birth to dozens of small streams meandering beneath a canopy of western cedar and vine maple.

Every once in a while, Janet and I get the itch to go on a multi-state road adventure. That means no motel reservations, no time tables, no fixed routes and no exact date to get back home. Often this also means no maps, just a general idea of what we want to see and experience. One thing we had talked about was to drive California Hwy 1 from San Francisco to Los Angeles. Neither one of us is sure where this idea came from. I suspect it started way back in the early 1970s when we lived for one year in Santa Rosa, California.

The first seed for this adventure was planted on February 23, 2014. On that day I wrote the following sentence. "The Gorge is home to 70 year-round waterfalls but only nine of them are visible from the highway. To see the rest of them will take some foot power." I found this number on a website, no names or locations were listed.

In the early part of last century Sam Hill and Samuel Lancaster had a vision for a road that would connect The Dalles to Troutdale. They didn't want it to be just a road; they wanted their road to have all the grace and beauty of some of the new roads that were being built in Europe.

It's been a tough year to have much enthusiasm about going outside. For us that seldom happens, but this winter the skiing has been awful. On top of that, most days at lower elevations were nothing but dreary and the bald eagles were pretty much a no-show. Last Monday we hit the wall; we had to get out of the house or we would go nuts.

Spectacular views await at new park Everything about Cottonwood Canyon State Park is impressive. At 252 miles, the John Day River is the second-longest undammed river in the lower 48 states. It is also one of the most productive steelhead fisheries in Oregon. The canyon is home to the largest California bighorn sheep herds in Oregon. The basalt flows came from Idaho and Nevada 15 million years ago and are 4.5 miles deep.

It looks like summer has finally arrived and for many of us that means it's time to go camping. If you are like me I head to the mountains and the shade of the deep forest. Toss in a babbling brook and I'm in heaven. That also means that I have moved in to Mr. Black Bear's living room. Over 25,000 black bear call Oregon Home and most of them live in my perfect camping spots.

It looks like we have fairly nice weather for Memorial Day for a change. The weatherman is calling for a partly sunny day with a high near 70 degrees. In the past it seems like every Memorial Day was wet, windy and more or less miserable to be outside. With that nice thought in mind here are three of my favorite family hikes that also feature fine places to have a picnic lunch.

It seems like Catherine Creek has become my go-to place for spring wildflowers. It has a lot going for it: Four thousand acres of public land packed with 90 species of wildflowers that begin blooming in February with the first appearance of grass widows. The show isn't over until the last of the western ladies tresses fade away in early July.