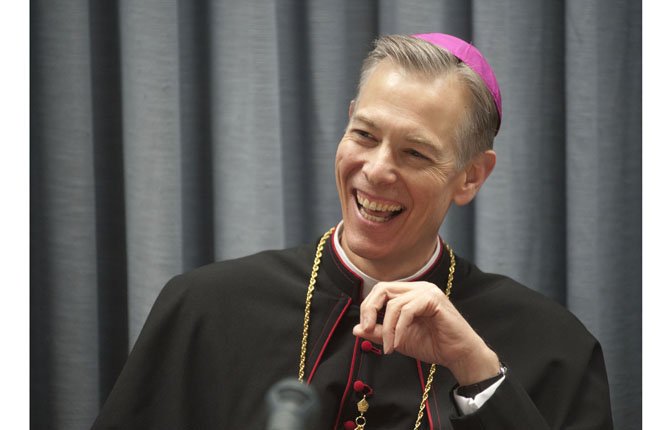 New incoming archbishop of the Archdioceses of Portland, Rev. Alexander K. Sample, speaks at his introduction in Portland Jan. 29. The outgoing archbishop John G. Vlazny, is retiring at age 75.
AP Photo/The Oregonian, Brent Wojahn
Stories this photo appears in:

PORTLAND, Ore. (AP) — Roman Catholic Church officials say Bishop Alexander K. Sample of Marquette, Mich., will succeed Archbishop John G. Vlazny in western Oregon. Vlazny has been archbishop of Portland since 1997. The Oregonian reported (http://bit.ly/VR5Hxx) he turned 75 and submitted his resignation in February 2012. The Archdiocese of Portland includes about 400,000 Catholics. The 52-year-old Sample was born in Kalispell, Mont., graduated from high school in Las Vegas and studied at the College of St. Thomas in St. Paul, Minn., and the Pontifical College Josephinum Seminary in Columbus, Ohio.