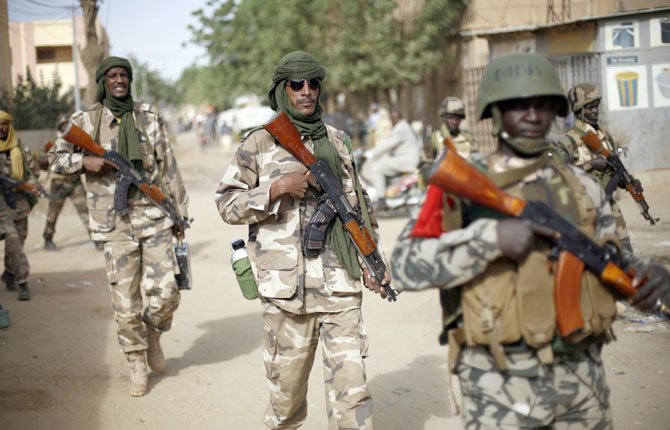 Chadian soldiers patrol the streets of Gao, northern Mali, Jan. 29, days after Malian and French military forces closed in and retook the town from Islamist rebels. Earlier Tuesday, four suspected extremists were arrested after being found by a youth militia calling themselves the "Gao Patrolmen". Malian soldiers prevented the mob from lynching them. AP Photo/Jerome Delay
Stories this photo appears in:

SEVARE, Mali (AP) — France's foreign minister said Wednesday that French forces would depart Mali "quickly" following their success in taking control of the airport in Kidal, a key position in the last remaining urban stronghold of Islamist extremists in northern Mali. French and Malian troops have recaptured two of the other provincial capitals, Timbuktu and Gao, in recent days. Once France, with its thousands of troops, fighter planes and helicopters, leaves, Mali's weak army and soldiers from neighboring countries Islamists might be hard-pressed to retain control of northern Mali's cities if the Islamists attempt a comeback from their desert hideouts.