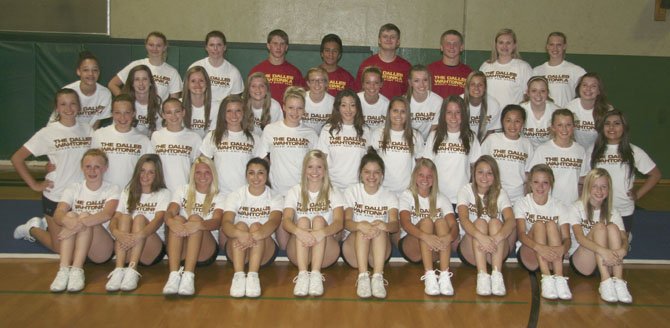 CHEERLEADER AND STUNT team members gather around in the Wahtonka High School Gymnasium at a recent practice. The members are (front row, left to right), Abbey Helseth, Lilly Ley, Alissa Pastor, Alyssa Valles, Ashley Munsen, Alejandra Pena, Alexis Pastor, Lillia Chance, River Agrelius and Alyssa Manciu. In the second row are (from left to right), Abby Minnick, Ally Lutgens, Sydney Langer, Sammy Minnick, Taylor Sugg, Gabbi Drake, Carmen Hrigora, Andrea Beckley, Kendhal Batholomew, Madison Richardson and Jennifer Martinez. In the third row are (from left to right), Taylor Watson, Alycia Christopherson, Hannah Burford, Emma Farr, Tianna Smith, Keagan Rice, Peyton Wojtecki, Madison Rowland, Bailey Coyner and Casey Slavens. In the back row are (from left to right), Autumn Ringer, Izzy Cowan, Orion Smith, Isel Ruiz-Campos, Destin Ramsey, Addison Smith, Abby Cowan and Hannah Hinshaw. Not pictured are Delaney Schanno and Lauryn Despain. This team has several new members and experienced returners back in the fold to cheer on sporting events this fall and winter for the 2013-2014 season.
Stories this photo appears in:

Group of 41 set to bring some school spirit to the masses TDW head coach Kristi Maley announced an update of her 2013-2014 cheer and dance team roster where there is good mix of fresh-faced newcomers and varsity veterans – 41 members overall.