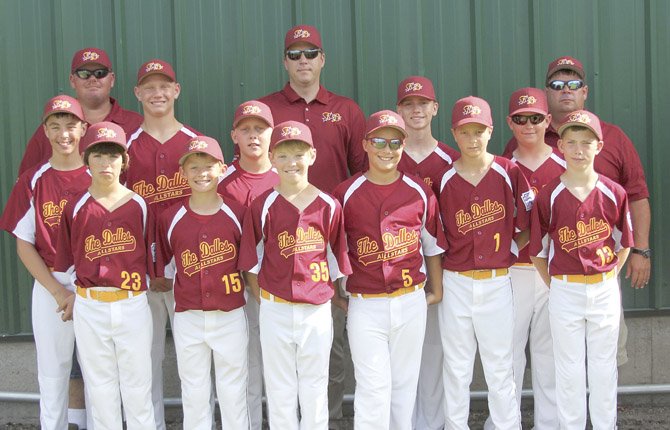 THE DALLES 12U All STARS gather around for a group shot after the District 5 Little League opening ceremonie last week in Bend. The players and coach are (front row, pictured from left), Jake Roetcisoender, Ben Nelson, Andy Carlock, Caden Mathisen, Tyler Vassar, Louis Red Cloud. In the middle row are Riley Mills, Henry Lee, Jordan Wetmore, Isaac Abrams, Devon Eiesland. In the back row are assistant coach Junior Lee, assistant coach Dan Nelson and manager Dennis Eiesland. This group cruised to the championship game with four consecutive wins to earn a spot in the championship game. TD lost to Hermiston by scores of 5-2 and 3-1.
Stories this photo appears in:

Teams break records, blaze new trails and start surges in final part of '13

Hermiston pitchers cool off hot bats in two victories For the first four games, The Dalles Little League 12U All Stars had everything going their way. They had already skipped past Columbia, John Day River, Bend North and Bend South, using a combination of pitching, hitting and defense to punch a final game ticket.