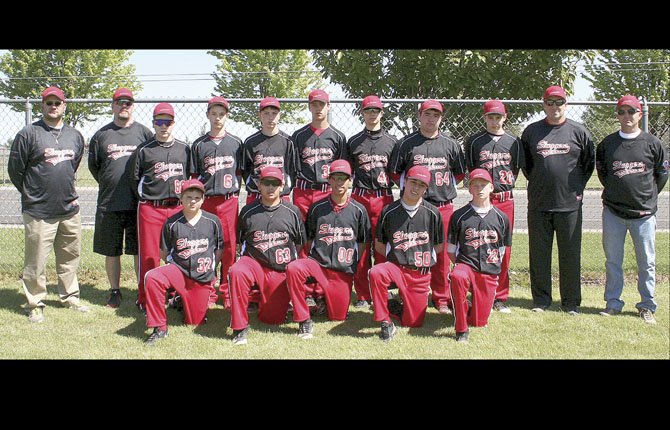 MEMBERS of the 14U Sluggers Junior Baseball Organization team (pictured from left to right, front row), Court Strizich, Boston Bate, Denzel Arellano, Izaac Tapia and John Miller are joined by in the back row by coach Brandon Strizich, coach Sean Herriges, Tanner Herriges, Dawson Hoffman, William Justesen, Jacob Wetmore, Preston Klindt, Tyler Westin, Daniel Peters, coach Jeff Justesen and Dan Klindt for a group shot after three days of play at the Redmond High Desert Classic. They went 4-2 in six tough games.
Stories this photo appears in:

14U Sluggers coming off 4-2 overall record at Redmond High Desert Classic Coming off a 1-3 record at the Yakima, Wash. 'Battle of the bats' the 14U Junior Baseball organization Sluggers re-shuffled the deck and rebounded with a 4-2 record in the three-day Memorial Day Redmond High Desert Classic. The Sluggers had things working in their favor early in tournament play with consecutive wins over Tigard (11-2) and Knappa, Idaho (5-2) by a combined 16-4 margin.