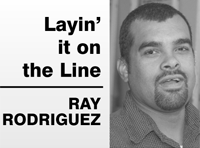 Stories this photo appears in:

After loss to Summit, Riverhawk veterans echo positive sentiments to the 'process'

Schools and programs bring sense of hope, promise and accomplishment to the table

The good, bad and the ugly of fantasy sports approaches

Community can take pride in the hiearchy shaping today's youth for the future

All it takes is a little success and belief and the confidence and drive of a football team can reach the highest of peaks.
Preparation and luck play huge role in taking top spot While many young boys and men are in the throes of exerting physical strength with testosterone coursing through their systems, every Sunday from now until January, I will be crouched in front of a 36-inch television in nacho-cheese stained sweats with cholesterol clogging up my veins for an aged-old ritual – football.

Challenger program continues to enjoy success through several years in The Dalles For four weeks, a large number of athletes, parents, coaches and friends congregate on 16th Street Ballpark for special moments of Challenger Baseball in The Dalles.