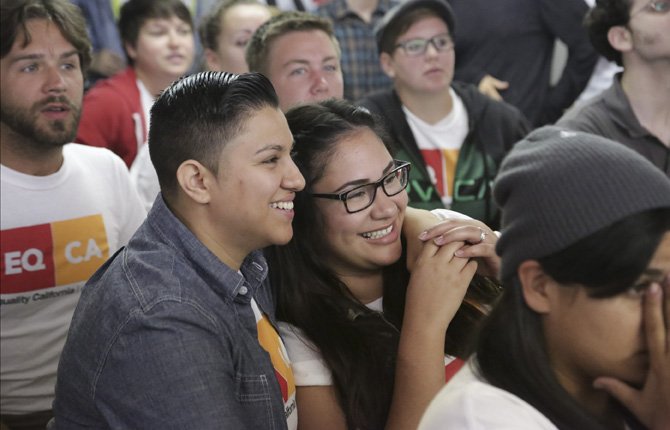 Domestic partners Alicia Guajardo, left, and Isabella Restrepo, both 24 of Los Angeles, react to the Supreme Court ruling on the Defense of Marriage Act at the offices of Equity California, the state's largest gay rights group, in West Hollywood, Calif., Wednesday, June 26, 2013. The justices issued two 5-4 rulings in their final session of the term. One decision wiped away part of a federal anti-gay marriage law that has kept legally married same-sex couples from receiving tax, health and pension benefits. The other was a technical legal ruling that said nothing at all about same-sex marriage, but left in place a trial court's declaration that California's Proposition 8 is unconstitutional.
Stories this photo appears in:

WASHINGTON — In a major victory for gay rights, the Supreme Court on Wednesday struck down a provision of a federal law denying federal benefits to married gay couples and cleared the way for the resumption of same-sex marriage in California.