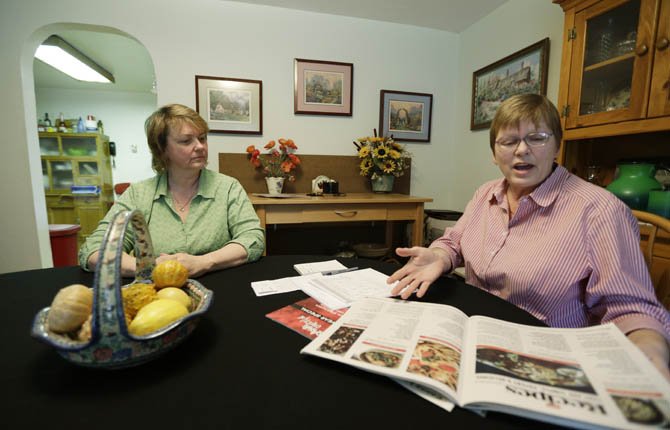 Kimberly Bliss, left, and her wife Kim Ridgway, right, look at recepies for marijuana "edibles" as they sit at their dining room table Feb. 27, at their home in Lacey, Wash. The couple got married on Dec. 9, 2012, thanks to the state's new gay marriage law, and now they are trying to take advantage of another measure voters approved in November by planning to open a state-licensed marijuana store.
Stories this photo appears in:

LACEY, Wash. — Kim Ridgway and her wife, Kimberly Bliss, can well envision the shop they plan to open — where they'll put the accessories, the baked goods and the shelves stacked with their valuable product: jars of high-quality marijuana. Like many so-called "potrepreneurs" throughout Washington and Colorado, they're scrambling to get ready for the new world of regulated, taxed marijuana sales to adults over 21 — even though the states haven't even figured out how they are going to grant licenses.