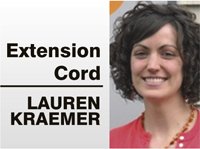 Stories this photo appears in:
I've been asked by several community groups to come give presentations on healthy eating tips folks can practice this time of year.

September is National Preparedness Month. Throughout the nation, various agencies like the American Red Cross, Extension Services, Federal Emergency Management Agency (FEMA), local fire departments and emergency medical services staff, churches and utility companies are partnering to sponsor "Get Ready" events.

The start of the food preservation season can bring mixed emotions for me. On the one hand, I am thrilled by the plethora of fresh, local fruits and vegetables and the opportunities we have here in the gorge to put up just about any kind of fruit, vegetable, or protein through canning, drying, freezing, or fermenting.

Each year the Oregon State University Extension Service Master Food Preserver Program here in the Gorge offers a series of "a la carte" classes folks can participate in to learn about food preservation and home cooking topics.
My husband and I recently purchased our first home. As part of the home inspection process, I requested a radon test. I learned about the risks of radon in an environmental health class I took at Oregon State University and wanted to make sure I knew everything about our new home—the good, the bad, and the ugly.

What if I told you that by the end of June you would be fermenting your own sauerkraut, canning your own jams and jellies, making your own fresh yogurt, pressure canning the spring Chinook run of salmon into half-pint jars, dehydrating your own herbs, and freezing extra snow peas and strawberries for use this winter?