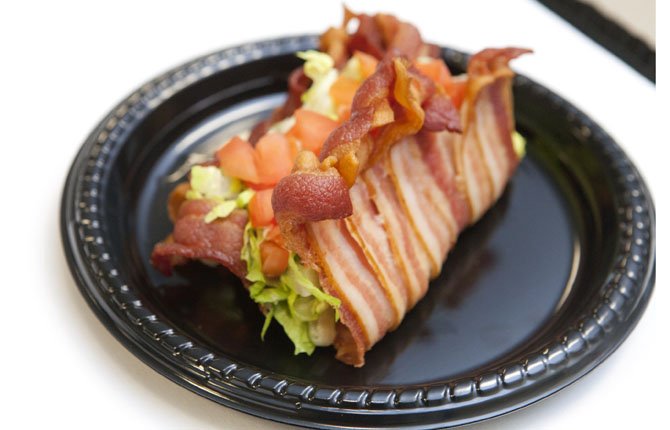 Bacon Taco Delight
THE Baco, a taco in a bacon shell, won the Michigan Whitecaps minor league baseball team's fourth annual food contest. The Baco will be available at Whitecaps games this summer at Fifth Third Ballpark, in Comstock Park, Mich.

Stories this photo appears in:

BAGHDAD (AP) — A string of explosions tore through central Baghdad within minutes of each other on Thursday, followed by a coordinated assault by gunmen who raided a government building and battled security forces in the streets. The attack left at least 24 people dead and scores wounded. The fighting lasted about an hour, ending with security forces storming the building, killing the gunmen and evacuating hundreds of people who had hunkered down in their offices, according to police. The large and complex assault on Justice Ministry offices in the heart of downtown Baghdad came less than a week before the 10-year anniversary of the U.S.-led invasion of Iraq, showing how vulnerable this country remains to insurgent attacks. There was no immediate claim of responsibility, but the attack bore the hallmarks of al-Qaida's Iraqi arm.