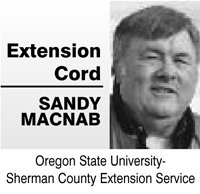 Stories this photo appears in:

I recently attended parts of three county fairs and noticed in the art and photo competitions there were an awful lot of agricultural-based themes. Wow. Makes sense. There's an old saying about "When agriculture begins, the other arts follow."
National FFA week was celebrated February 15-22, so this is good time to share the foundations of this youth organization, beginning with the FFA Creed. How many of you remember learning these lines in school?

Veteran's Day is upon us and once again nearly everybody is celebrating the honor our veterans bestowed on us by their service and sacrifice.
Fall is in the air and that means lifestyle adjustments for students and parents everywhere. Junior (or Junior-ette) is heading to college. It impacts everyone and not just financially.

This past month has been very busy around the area's Extension offices. Days have been extra-long for all of us. I have seen so many examples that remind me of why I love this area.

Yes, my wife and I (a.k.a. The Professor and Mary Anne) were honored to serve as grand marshals for the 2013 Cherry Festival Parade. And no, it was not a sign the apocalypse is upon us, that the Extension cereals agent was asked to lead that popular cherry-focused event.
The last couple of weeks have brought to mind the old Wasco County Bull Tours. That does not include the annual email I get this time from an old "Bull Tourist" reminding me it's time to celebrate it again.