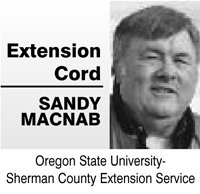 Stories this photo appears in:

Yes, my wife and I (a.k.a. The Professor and Mary Anne) were honored to serve as grand marshals for the 2013 Cherry Festival Parade. And no, it was not a sign the apocalypse is upon us, that the Extension cereals agent was asked to lead that popular cherry-focused event.
The last couple of weeks have brought to mind the old Wasco County Bull Tours. That does not include the annual email I get this time from an old "Bull Tourist" reminding me it's time to celebrate it again.