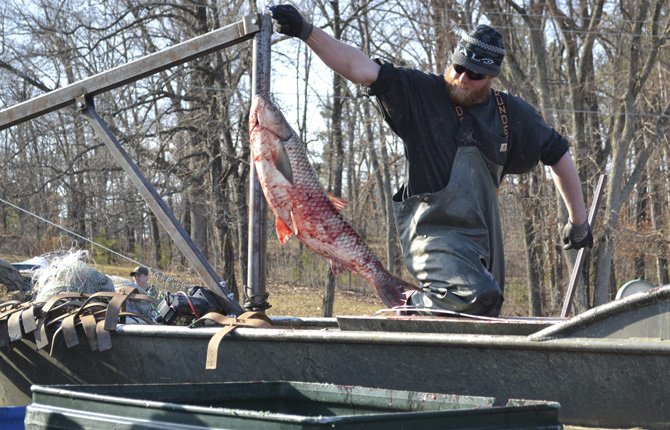 Billy Mull, a commercial fisherman from Grand Rivers, Ky., unloads Asian carp from his boat during a fishing tournament that was organized to remove the fast-breeding fish from two western Kentucky lakes on March 13, 2013 in Gilbertsville, Ky. Oregon also has problems with the invasive species.
Stories this photo appears in:

BURNS (AP) — Robot boats are set to sail this summer on Malheur Lake. But the high-tech tools won't be used right away to find the non-native carp infesting the lake, as refuge managers had hoped. The summertime study will be more about field testing the boats than searching for the fish, said Peter Sorensen, a professor at the University of Minnesota. The experimental, 6-foot-long robotic crafts that resemble toy boats are being tested in smaller lakes around Minnesota. Before they launch the craft on Malheur Lake near Burns, Ore., Sorensen said researchers are perfecting the design in the $2.2 million study funded by the National Science Foundation.