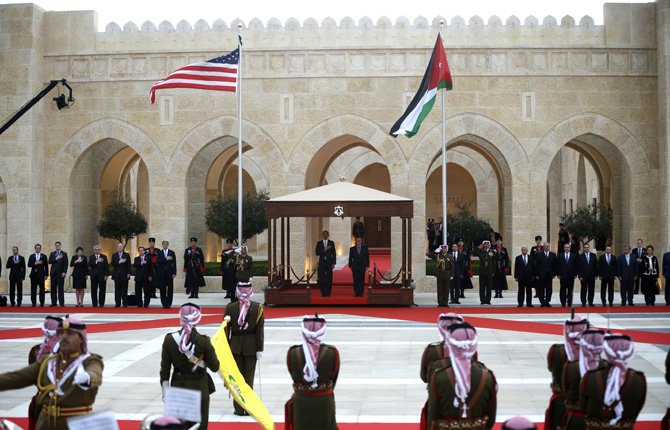 Obama visits Jordan
JORDAN's KING and his nation's top military brass welcomed President Barack Obama to Jordan on Friday with bagpipes and an ensemble of sword-carrying guardsman as the leaders headed into talks focusing on the civil war in Syria. More than 400,000 refugees have crossed into Jordan to escape two years of bloodshed at home, crowding refugee camps and overwhelming aid agencies run by this important U.S. ally in the Middle East. Jordan's King Abdullah II has voiced fears that extremists and terrorists could create a regional base in his country.
Obama also will seek to bolster Jordan's efforts to reform its government in an attempt to stave off an Arab Spring-style revolution that has led to the downfall of longtime leaders in Egypt, Tunisia and Libya.
Obama arrived in Jordan on Friday evening, the final stop on a four-day visit to the Middle East that included his first stop in Israel as president. After Air Force One touched down at Queen Alia International Airport in the capital of Amman, Obama was greeted on the red-carpeted tarmac by U.S. and Jordanian officials before the half-hour drive by motorcade to al-Hummar Palace.
Stories this photo appears in:

QUANTICO, Va. (AP) — Officials say a Marine killed a male and female colleague at a base in Virginia before committing suicide.