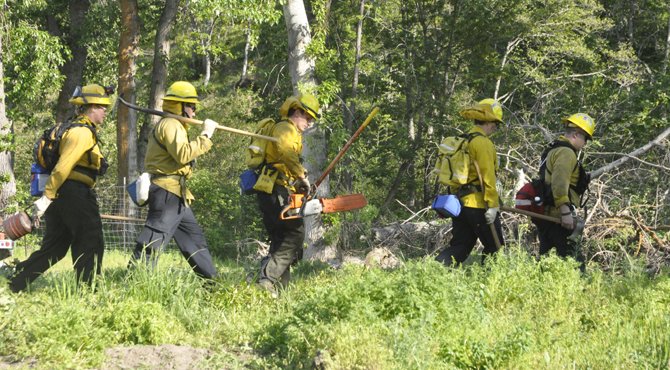 Firefighters head back to work on the Mill Creek Fire Friday, May 3, carrying chainsaws and other equipment to knock down fire fuels.
Kathy Ursprung photo
Stories this photo appears in:

The best time to fight a wildfire is before it starts. Reducing fuels reduces fires. There's less threat to the public, firefighters, trees, wildlife and property. So why is the U.S. government planning to spend less on reducing fuels for wildfire?

Just as Oregon's Wildfire Awareness week gets under way, firefighters are hoping two simultaneous fires Friday, May 3 — one on Sevenmile Hill and another on Mill Creek — are not a glimpse of worse to come.

Fuels are drying out, says fire chief
Mid-Columbia Fire and Rescue calls on surrounding agencies for help with simultaneous wildfires on Sevenmile Hill and Mill Creek.