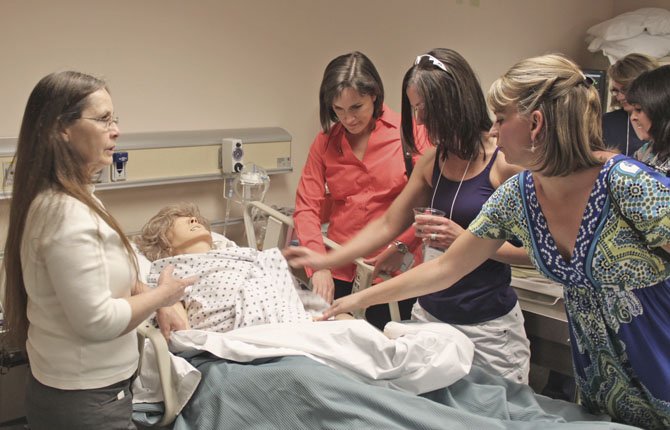 Nursing Program students at Columbia Gorge Community College led tours around campus facilities for community members and student alumni during the 10th anniversary celebration of the program. Tour participants saw the CGCC Rural Clinical Simulation Center, which is designed to mimic clinical settings to provide the nursing students at CGCC the opportunity to practice nursing clinical judgment at the patient's bedside and to enhance their skills. The students are given clinically focused case scenarios in which they must act as the nurse and demonstrate safe, research-based nursing care as the "patient's" conditions change. Nursing faculty facilitate the students' learning experience in the simulation lab. The event also included comments from the college president, Dr. Frank Toda, and from CEO Ed Freysinger of Providence Hood River Memorial Hospital, who shared information about the partnership between the college and the hospital. This week is also Nurses Week in the United States.
Stories this photo appears in:

New Entries COUNTRY BREAKFAST: ABC Huskies Day Care will sponsor the 30th annual Wasco Memorial Day Country Breakfast, Sunday and Monday, May 26 and 27, from 7:30 to 10:30 a.m. at North Sherman Rural Fire Hall, 411 Yates Street in Wasco. The menu includes ham, eggs, hotcakes and choice of drink for $7. Proceeds will be dedicated to facility improvements at the day care site.