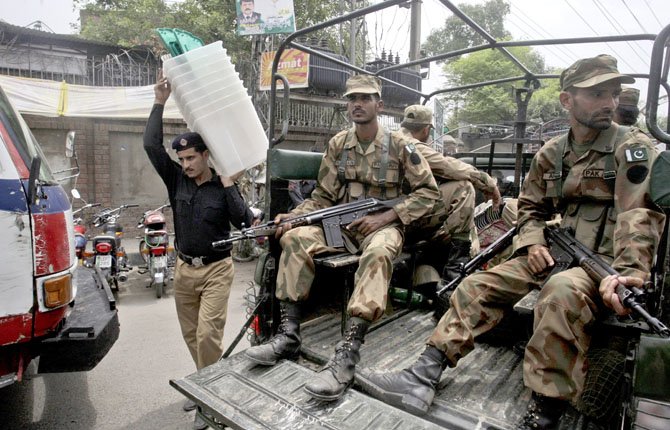 Election bomb strikes
PAKISTANI ARMY soldiers on guard outside the city court as policeman carries ballot boxes to polling stations May 10 in in Lahore, Pakistan. A pair of bombs targeting the offices of candidates running in this weekend's election killed three people on Friday in northwest Pakistan, the latest attacks in what has been a bloody campaign. At least 130 people have been killed in attacks on candidates and party workers since the beginning of April. The Pakistani Taliban have claimed responsibility for most of the attacks, saying the country's democracy runs counter to Islam. The country is scheduled to hold parliamentary elections on May 11, the first transition between democratically elected governments in a country that has experienced three military coups and constant political instability since its creation in 1947. The parliament's ability to complete its five-year term has been hailed as a significant achievement.
Stories this photo appears in:

GUATEMALA CITY (AP) — Former Guatemalan dictator Efrain Rios Montt denied on Thursday that he ordered the extermination of Ixil Mayas as he testified for the first time at his genocide trial.