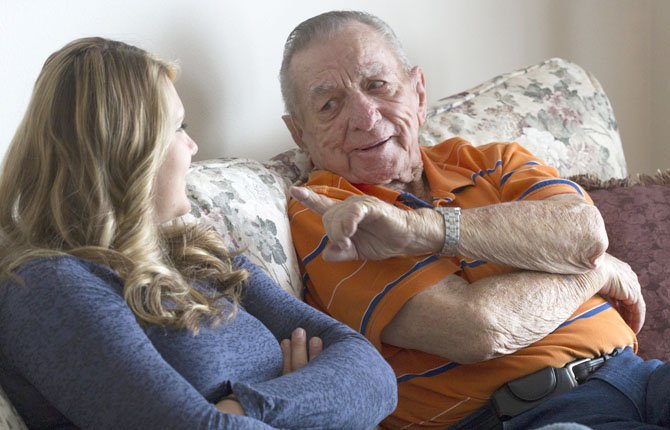 George Jones, right, 89, talks with Bailey Jo Bartlome in Kuna, Idaho, May 17. When Bartlome and other seniors at Kuna High School discovered Jones didn't get his diploma when military service in World War II interfered, they arranged for him to be awarded an honorary diploma at their May 23 graduation.
AP Photo/The Idaho Statesman, Katherine Jones
Stories this photo appears in:

BOISE, Idaho (AP) — World history conspired to keep George Jones from getting his high school diploma. Bailey Jo Bartlome and other Kuna High seniors conspired to make sure he got it. Jones, now 88, went from a farm at Black Cat and Columbia roads to the Pacific theater and into banking. Bartlome, 18, met Jones at a school veterans celebration last fall. She was so moved by his life and story that she worked with her fellow 250 seniors to include Jones at graduation ceremonies, complete with cap and gown.