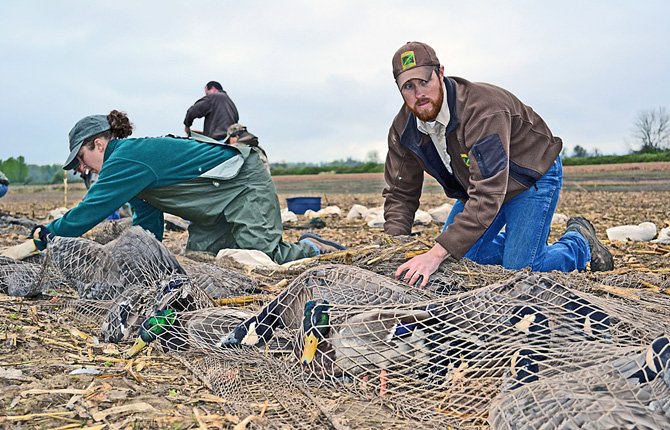 Wildlife biologists from Oregon and Washington remove cackling Canada geese from a rocket net used to capture the birds as part of a three-year population study. In all, biologists put leg bands and neck collars on 558 geese captured in April on the Sauvie Island Wildlife Area north of Portland. The project will continue later this year when biologists band and collar more geese on the birds' breeding grounds in Alaska.
Stories this photo appears in:

WITH VIDEO SAUVIE ISLAND, Ore. – It's 5 a.m. and a dozen fish and wildlife biologists clad in camouflage quietly crouch in the brush next to a field of corn stocks hiding them from tens of thousands of cackling Canada geese in an adjacent field. Quietly and patiently these men and women wait as darkness turns to dawn over the Sauvie Island Wildlife Area (SIWA). All are being careful not to spook the birds and drive them away, which would prolong the early morning routine.