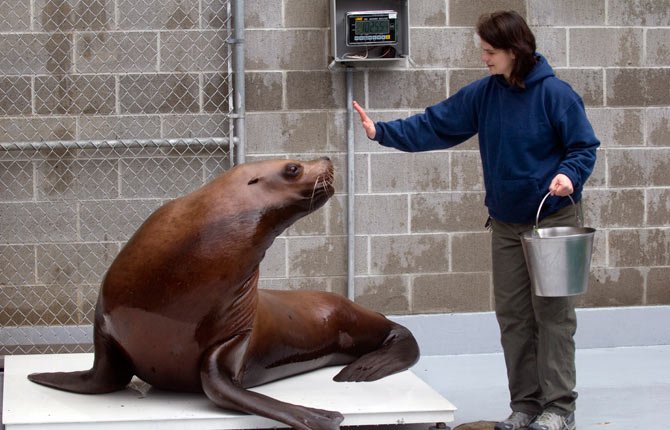 Gus, one of the Steller sea lions at the Portland Zoo, gets positioned by Nicole Nicassio-Hiskey for weighing.

Stories this photo appears in:

Sea lions are fascinating to observe. Along with other maritime attractions such as close encounters with enormous ocean-going ships, sea lions are one of the features that make the Astoria waterfront so compelling. Most people never get to see these things and are willing to travel a great distance for the chance. But there can certainly be too much of a good thing. At the East End Mooring Basin, sea lions have become a nuisance for most people who live in the immediate vicinity. It is difficult to imagine having to endure their noise and smell for very long. The fecal matter on mooring basin facilities and in surrounding waters must be a health concern on some level; pity the poor sailor who falls in.

PENDLETON (AP) — As a child in Pendleton, Nicole Nicassio-Hiskey had every pet she could slip past her mother. Turtles, rats, dogs and cats all roamed the Nicassio household.