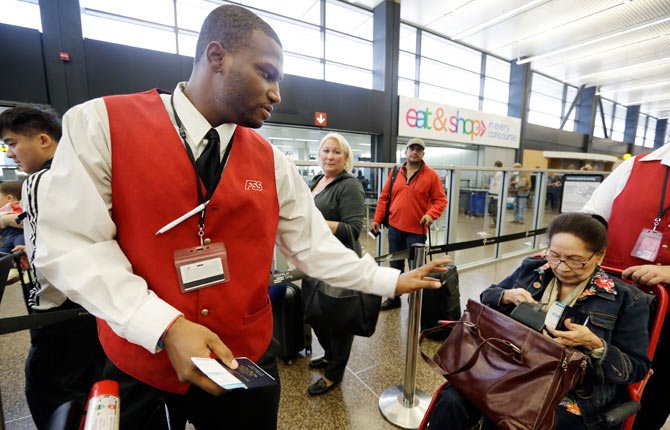 Wheelchair attendant Erick Conley, left, assists an elderly passenger heading overseas Oct. 22 at Seattle-Tacoma International Airport in SeaTac, Wash. There's a campaign underway to raise the minimum wage to $15 for the more than 6,300 jobs at Seattle's largest airport. If approved by voters on Nov. 5, the wage rate, as well as sick days and other benefits, would only apply to the city of SeaTac. The vote is one of the latest flashpoints in the national debate over the minimum wage after fast food workers and others held a series of summertime rallies to bring attention to their struggle to earn a living.
Stories this photo appears in:

SEATAC, Wash. — For two decades, Chris Smith worked his way up from ferrying passengers in wheelchairs at Seattle-Tacoma International Airport to fueling airplanes. But after years of breathing fuel fumes, going without sick days and making just over Washington's minimum wage of$9.19, Smith could no longer make it work.