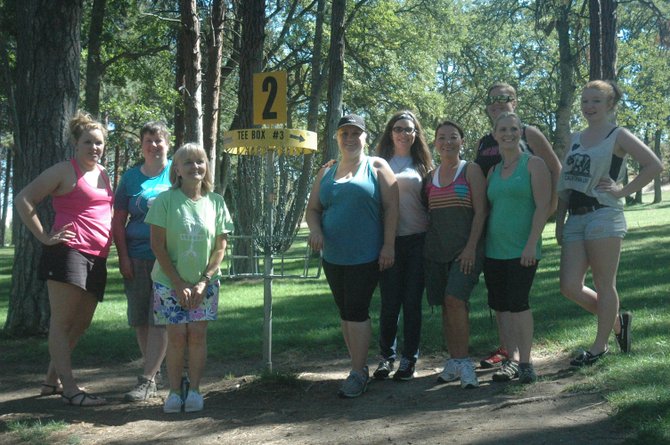 MEMBERS OF the Chick Flick monthly group gather around basket 2 at Treetop Disc Golf Course Saturday at Sorosis Park in The Dalles. The players are (pictured from left to right), Samantha Stephens, Cindy McMahan, Benita Harper, Jennifer Barajas, Shawn Wilberscheid, Judy Martinez, Kristy Cole, Rebecca Tobias and Sky Wilberscheid. Across the nation, more women are participating in leagues, tournaments and other venues in what has proven to be a hugely popular and growing sport.
Stories this photo appears in:

More and more women gravitating towards hugely popular sport
On Saturday, at the Treetop Golf Course at Sorosis Park in The Dalles, nine female disc golf players gathered for their monthly 'Chick Flick' casual round of disc golf to network and they learn from each other. The scores were tabulated, but for the most part, this round was mainly a fun takeaway from the rigors of tournament and travel and everything else involved in being a competitive player.