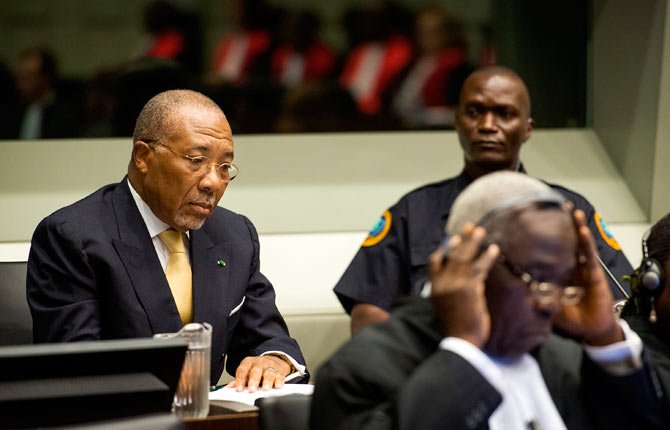 FORMER LIBERIAN President Charles Taylor, left, waits Sept. 26 for the start of his appeal judgement at the Special Court for Sierra Leone (SCSL) in Leidschendam, near The Hague, Netherlands. Judges at a U.N.-backed tribunual are delivering their judgment in Taylor's appeal against his convictions and 50-year sentence for planning and aiding atrocities by rebels in Sierra Leone's bloody civil war. Taylor, 65, became the first former head of state convicted by an international war crimes court since World War II when the SCSL found him guilty on April 26, 2012, of 11 counts of war crimes and crimes against humanity including terrorism, murder, rape and using child soldiers.
Stories this photo appears in:

Netherlands — More than a decade after he helped rebels go on a murderous rampage in Sierra Leone, Charles Taylor was definitively convicted and imprisoned Thursday for 50 years, in a ruling that provided redemption for victims and underscored how hard it is for international courts to prosecute world leaders.