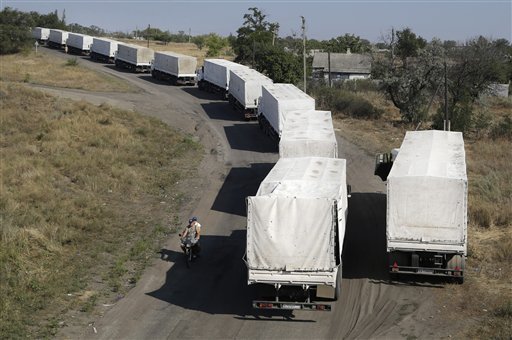 rucks marked as being from a bitterly disputed Russian aid convoy to Ukraine stand in line as they return to Russia on the border post at Izvaryne, eastern Ukraine, Saturday, Aug. 23, 2014. An Associated Press reporter counted 67 trucks entering the border crossing in the Russian city of Donetsk before noon Saturday. Another AP reporter on the Ukrainian side of the border said a line of trucks about 3 kilometers (2 miles) long was waiting to cross. The checkpoint on the Ukrainian side was being operated by separatist rebels, who inspected the trucks.
Stories this photo appears in:

DONETSK, Russia (AP) — Hundreds of trucks from a bitterly disputed Russian aid convoy to rebel-held eastern Ukraine rolled back across the border Saturday into Russia but questions about alleged Russian artillery in Ukraine still remained.