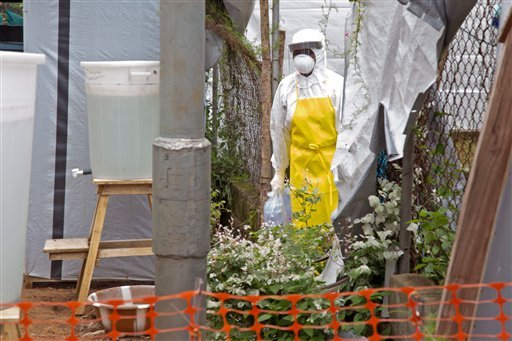 A healthcare worker walks near a Ebola isolation unit wearing protective gear against the virus at Kenema Government Hospital, in Kenema that is in the Eastern Province around 300km, (186 miles), from the capital city of Freetown in Kenema, Sierra Leone, Tuesday, Aug. 12, 2014. The World Health Organization declared Tuesday, it is ethical for unproven drugs and vaccines to be used amid an unprecedented outbreak in West Africa, however it didn't address who should get the limited amount of drugs available and can not predict the result of using untested drugs.
Stories this photo appears in:

FREETOWN, Sierra Leone (AP) — Sierra Leone voted to pass a new amendment to its health act, imposing possible jail time for anyone caught hiding an Ebola patient, a practice the World Health Organization believes has contributed to a major underestimation of the current outbreak.