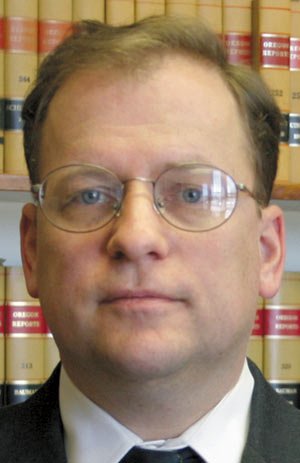 Eric Nisley
Stories this photo appears in:
The Oregon State Bar filed a formal complaint last month alleging Wasco County District Attorney Eric Nisley made false statements to the bar. Nisley denied the allegation in a July 10 response and asked that the complaint, filed in the Oregon Supreme Court, be dismissed.

Measure 91 would regulate and tax manufacture and distribution of marijuana in Oregon, for use by people age 21 and over. People over 21 could legally have four homegrown marijuana plants and eight ounces of usable marijuana at a given time, 16 ounces in solid form at a given time, and 72 ounces in liquid form for noncommercial purposes. They cannot have more than one ounce of usable marijuana in a public place. Possessing more than these amounts carries criminal penalties ranging from a felony to a violation, depending on the amount. Taxes raised will go to schools, drug treatment and police. It preserves current landlord-tenant rights and retains workplace drug-free laws. Two views on the measure: Pot should stay illegal" and "Prohibition should end."
Course based on Secret Service training model