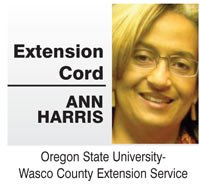 Stories this photo appears in:
Fall is a time of change and transition. The weather is gradually getting cooler, the leaves are beginning to change and students, young and old, are beginning a new school year.
Beware of the Summer Slide! Once upon a time, in the scorching days of July and August, kids would have to pour water on the scorching hot playground slide to avoid burns. Luckily, kids today have colorful, cooler, plastic slides, but kids today need to be wary of a different kind of "summer slide."
"Wow, is she already done?" That's the first reaction I get whenever I share with family and friends that my daughter is about to graduate from college. It is hard to believe that the time has gone by so fast. The second reaction is invariably, "So, what is she going to do now?"
Perhaps you have heard about it but are still wondering, "What is this 'Open Campus' and what can it do for me?" Open Campus is a new idea that is built upon the rich history of a program that you are probably familiar with: OSU Extension. Like Extension, the goal of Open Campus is to bring educational opportunities to people in all parts of our great state—not just those who can attend classes in Corvallis.