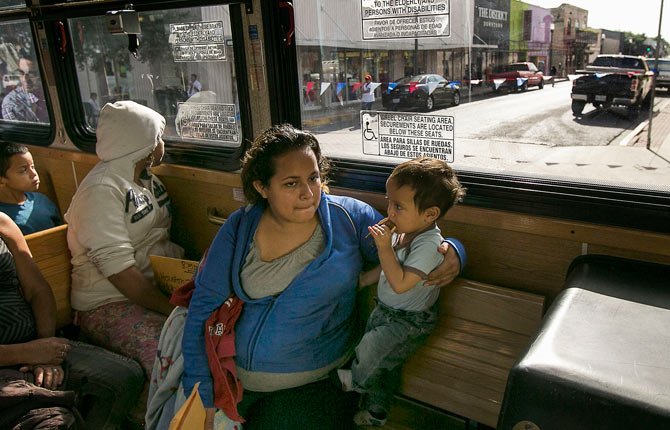 In this photo taken July 4, 2014, Marta Beltran, 19, of El Salvador, holds her 18-month-old son, Lenny, as they ride a city shuttle bus from the McAllen city bus station to the Sacred Heart Catholic Church Shelter in McAllen, Texas. About 90 Hondurans a day cross illegally from Mexico into the U.S. at the Rio Grande near McAllen, according to the Honduran Consulate, and the families are then brought to Central Station in McAllen and each is released on their own recognizance. Though most travelers have enough money to purchase their own bus tickets to meet family in cities across the U.S., many have nowhere to stay before the buses leave, and most are in need of rest, medical attention and sustenance. It falls to the local government and charities to welcome the uninvited visitors to America. Tens of thousands have also fled to the U.S. from El Salvador and Guatemala to escape violence.
Stories this photo appears in:

WASHINGTON (AP) — President Barack Obama's $3.7 billion emergency request for the border crisis is too big and the House won't approve it, the chairman of the House committee that controls spending said Friday. "It's too much money. We don't need it," Appropriations Committee Chairman Hal Rogers, R-Ky., told reporters.