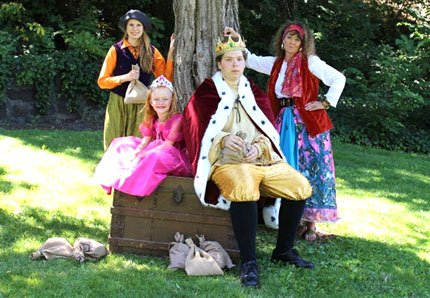 FREE PLAYS in the Park celebrates its eighth year with "King Midas and the Golden Touch," Saturdays, July 12 and July 19, at 11 a.m. at The Dalles City Park. The performances are presented by the Theatre Company of The Dalles and Northern Wasco County Parks and Recreation. Bring lawn chairs or blankets to get comfortable for some family fun. A shade structure and sound system are new this year. The play centers on King Midas, who is too greedy for his own good. He already has so much gold that he needs the help of children in the audience to count it. But he still wants more. When a friendly sorceress, Glenna, visits his kingdom, he talks her into granting him one wish: that everything he touches turns to gold. The results are far from what the king expected. Audience children will help the king learn a valuable lesson, that gold alone isn't enough to make you happy. Cast includes, pictured from left, Avery Cardosi as Nicky the Page, Faith Gouge as Marian, Ian Webb as King Midas and Brenda Green as Glenna the Sorceress. Contributed photo
Stories this photo appears in:

Nonprofit events calendar from July 11, 2014.