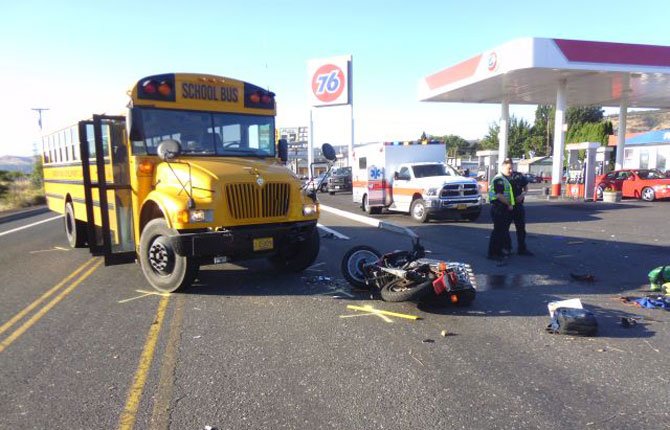 Crash injures biker
A motorcyclist was injured in a serious crash Saturday morning, July. 26, with a school bus in the west end of The Dalles along Highway 30. At approximately 7:17 a.m., a motorcycle operated by Larry M. Dew, 57, was eastbound on Highway 30 near Division Street when it collided with the front of an International bus driven by Patrick Preston, 55, from The Dalles, according to Senior Trooper Scott Rector. The bus was turning left from Highway 30 into a gas station/convenience store lot when the collision occurred. Dew was seriously injured and transported by LifeFlight to Legacy Emanuel Medical Center where he is in critical condition. His motorcycle is registered in Colorado but he reportedly may be currently living in Wisconsin. He was wearing a protective helmet. Dew's upper left leg was crushed, according to OSP Sgt. Kaipo Raiser. He also sustained broken bones in his left hand and arm, and facial fractures, but is expected to recover
Preston was not injured. The bus belongs to Oregon Child Development Coalition and no passengers were aboard. The bus driver was cited for an improper left turn violation, Raiser said. OSP was assisted at the scene by The Dalles City Police Police Department and Mid-Columbia Fire & Rescue. Oregon State Police photo
Stories this photo appears in:

Police, fire, medical and lottery reports from July 29, 2014.