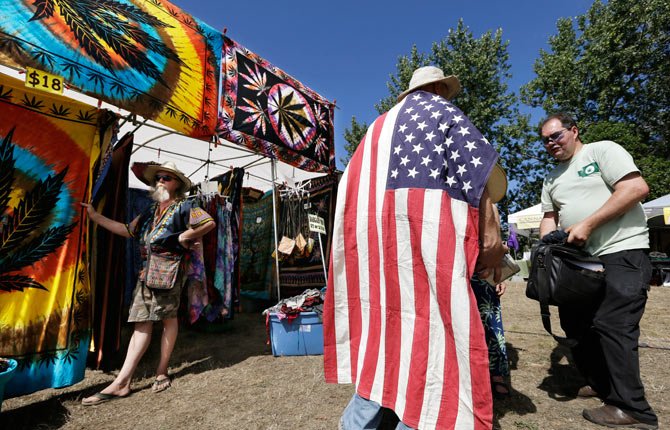 IN THIS Aug. 16 file photo, a man wears an American flag as he walks past a vendor selling tie-dyed products at the first day of Hempfest in Seattle. One of the U.S. Justice Department's top concerns in allowing Washington and Colorado to move forward with plans to legalize and tax marijuana sales is seeing that the states keep criminals out of the industry. But the DOJ itself is refusing to let Washington run national background checks on those applying to run legal pot businesses, The Associated Press has learned, and those who have received the first legal pot licenses have done so without going through a national background check.
Stories this photo appears in:

SEATTLE — The FBI is refusing to run nationwide background checks on people applying to run legal marijuana businesses in Washington state, even though it has conducted similar checks in Colorado — a discrepancy that illustrates the quandary the Justice Department faces as it allows the states to experiment with regulating a drug that's long been illegal under federal law.