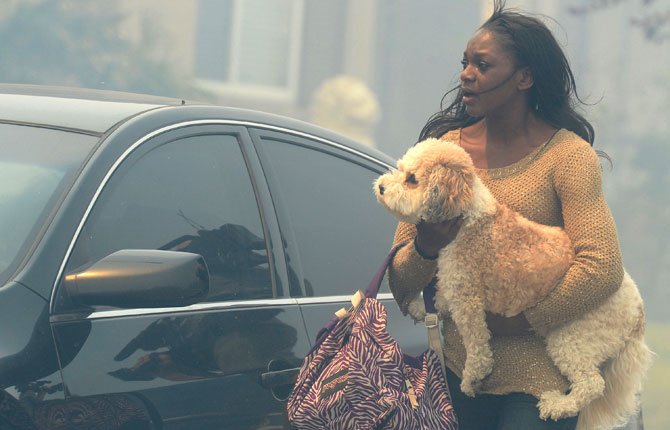 A WOMAN who is evacuating her home carries a dog to a vehicle in smoke from the Etiwanda Fire in Rancho Cucamonga, Calif., April 30. The wildfire driven by surging Santa Ana winds sent a choking pall of smoke through foothill neighborhoods, forcing the evacuation of at least 1,650 homes and the closure of at least seven schools. The fire was reported about 8 a.m., grew to 200 acres by noon, quadrupled in size within a few hours and continued to grow as it roared through dry brush.
Stories this photo appears in:

RANCHO CUCAMONGA, Calif. (AP) — Firefighters battling a smoky blaze in the foothills east of Los Angeles took advantage of cooler early-morning conditions as they braced for the return of gusty winds that initially pushed the fire in the direction of more than 1,500 homes.