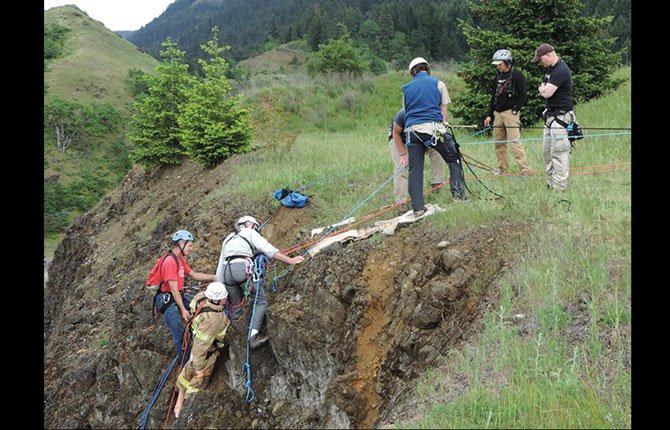 CRAG Rats work together to raise "Denny" to the top of this cliff in a former quarry near Mark O. Hatfield Trailhead May 3. John Inglish, in red, and Steve Castagnoli have harnessed Denny, while Ron Martin, Jay Sherrerd and Dennis Kline work from above.

Stories this photo appears in:

Crag Rats clung to a jagged cliff worthy of their name Saturday afternoon. The scene was a 60-foot cliff in a former rock quarry just west of the Mark O. Hatfield Trailhead, with views of Mosier and the Columbia River. Rockfall — airborne geological debris — was part of the challenge as 20 volunteers with the mountain rescue group trained via the scenario of an injured climber needing assistance getting off the cliff face. "Denny," a 180-pound training dummy on loan from Parkdale Fire Department, served as the victim.