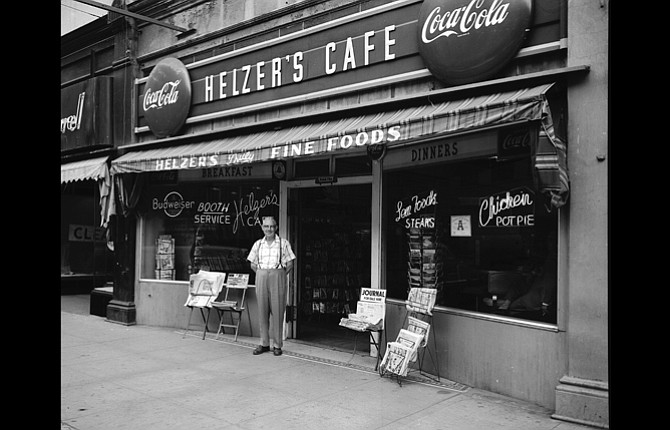 Terray Harmon, Russ Brown, Donna H., Nancy B., Dale and Becky Roberts of Maupin, Lucile Stephens of Dufur, Gary Conley and Johna Ward all contributed to the information gathered about Helzer's Diner in The Dalles, above.
The photograph was scanned from a collection of negatives labeled "restaurants" from the archives of The Dalles Optimist, which later became The Dalles Chronicle. It was scanned from a 5 by 7 inch black and white film dated July 12, 1957.
The newspapers displayed on racks to the left of the proprietor are, left to right, The Dalles Optimist and the Oregonian. Behind the window is a rack of "HOW TO BOOKS" and shelves of magazines. In the newspaper racks to the right of the proprietor, enlargement shows the Seattle Post Intelligencer and The New York Mirror, and a Sunday paper wrapped in color comics, with Dick Tracy visible. Behind the window a rack of greeting cards, one end of the lunch counter and a man smoking are visible.
Helzer's Café was located at 311 E. 2nd Street, where Greater Oregon Behavioral Health is now, said Johna Ward.
The Cafe may have been open all night, certainly very early and very late. There were restrooms and a shoe-shine service accessed from the alley behind, which served as a bus depot for Greyhound and Trailway buses. Lucile Stephens said she remembered the café well: "Mother would put me on the bus there to go to her friend's home in Washington," she said.
Buses came to the alley behind the store, and tickets were purchased inside the café. "It was a busy place there for years," remembers Gary Conley.
Helzers Café
Jake Grossmiller wrote: The description of Helzers Café (last week, corrected) was by and large correct with a few exceptions. The bathrooms were in the basement, not the Shoe Shine stand. The stand was located in the back of the building and was manned by Percy Viltz. There were storage lockers across from Percy's Stand that could be rented for a quarter. The cashier's stand was located across from the lunch counter and was manned by my Aunt Helen Slusher-Grossmiller, and had shelves with trinkets and souvenirs of The Dalles.
Stories this photo appears in:

Looking back on Sept. 13, from the archives of The Dalles Chronicle

Looking back on Sept. 6, from the archives of The Dalles Chronicle.

Looking back on Aug. 30, from the archives of The Dalles Chronicle.