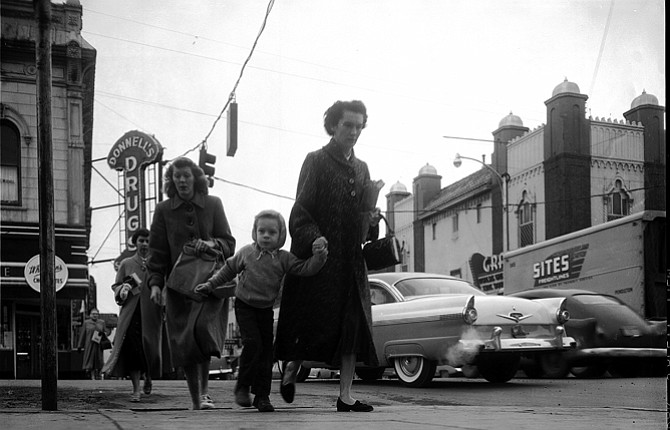 Terray Harmon, Lee Langston, Gary Conley, Bobetta Stewart, Mary Batty and Mary Earl all contributed to this report.
Last week's History Mystery, above, was scanned from a 4 by 5 inch black-and-white negative from the Archives of The Dalles Chronicle. It is one of a collection of photographs taken over several months in 1956 and labeled simply "Monahans Street Scenes."
Bobetta Stewart said that her aunt, Mary Lou Earl, now 87, is walking hand in hand with her son Greg Earl, Stewart's cousin. Earl's husband, Richard, was the superintendant of School District #9.
Mary Earl also called, from her home in Eugene, and said that yes, that was her in the photograph.
Terray Harmon said the art studio of Benjamin Gifford can be seen in the backfound, as well as the JC Penney parking lot, which used to be a Woolworths.
Mary Batty said she recognized the Granada and Donnell's Drug Store in the background, and added there was a jewelry store at the corner as well, and a J.J. Newberry store, an American five and dime store chain in the 20th century.
Several callers recognized the 1956 Ford, and said they had one exactly like it.
Stories this photo appears in:

Looking back on Dec. 13, from the archives of The Dalles Chronicle.

Looking back on Dec. 6, from the archives of The Dalles Chronicle.