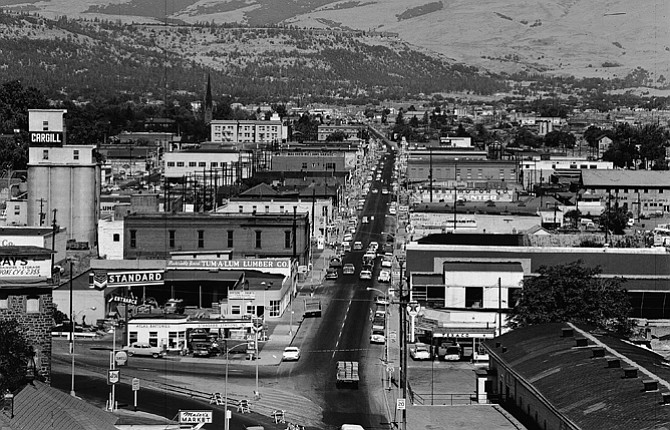 Robbie Anderson, Lucile A. Stephens, Lee Langston. Terray Harmon, Dale Roberts, Gary Conley and Dan Meader all contributed to this report.
Unlike most History Mystery photos, the Chronicle does not have a clear answer to the mystery question: The negative, a 4 by 5-inch black and white, is labeled simply "City Streets, Copy of Color, July 1962." It is clearly a view of Highway 30 through downtown The Dalles, looking west from the Brewery Grade.
Guesses ranged from the late 1950s to the early 1960s.
Dan Meader wrote that it was likely taken in 1960 or 1961. "The white car in front of the Standard Station is a 1958 Chevy, it belonged to a classmate, Fred Smith. Fred worked at the station. The photo was on a placemat available locally for a number of years.
"And for what it's worth, I worked at the station the summer of 1962."
Terray Harmon said that he worked at the Economy Market in the late 1960s, but thought the photo was taken in the late 1950s. Gary Conley thought it was in the 1960s, and noticed a truck loaded with cherries being trucked through town.
Lucille A. Stephens noticed the academy next to what is now Old St. Peters Landmark, where she went to school from 1941 through 1946.

Stories this photo appears in:

Looking back on Dec. 20, from the archives of The Dalles Chronicle.

Looking back on Dec. 13, from the archives of The Dalles Chronicle.