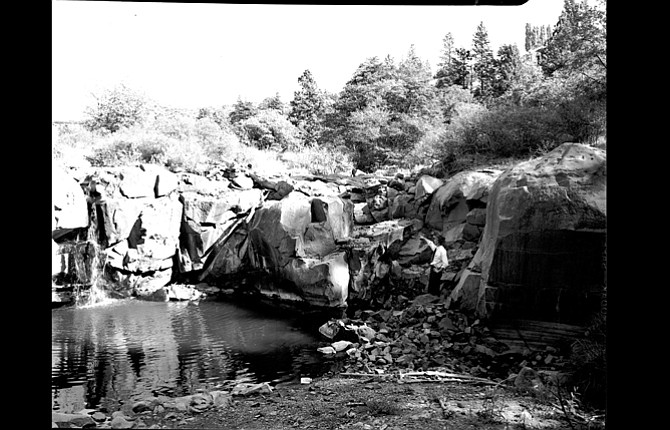 Irene Sullenger correctly identified this photograph as "15-mile creek, about gone dry." Dale Roberts and Lee Langston also guessed as to the location of this History Mystery.
The undated photograph was scanned from a 4 by 5 inch negative from the archives of The Dalles Chronicle. The information on the envelope reads, "Fifteen Mile Creek (with Paul Weigelt) after improvements made. Published Sept. 19, 1947.
The published photo appeared in The Dalles Optimist Friday, Sept. 19, 1947 on an inside page under the headline "New fishway blasted on Fifeteen Mile Creek." The caption read "Dynamiting of a fishway at Cushing Falls, near the lower end of Fifteen Mile Creek, about a mile above the Seufert Brothers canning plant, by the state game commission, will permit migratory fish to ascend the stream during high water in the spring and greatly improve fishing in the Dufur area, believes Paul Weigelt, sportsman, and longtime active member of the Rod and Gun club. The water will come down this fishway now instead of going over the sheer rock ledge at left, as formerly. Optimist Photo."

Stories this photo appears in:

Looking back, Aug. 1-2, from the archives of The Dalles Chronicle.

Looking back on July 26, from the archives of The Dalles Chronicle, and History Mystery.