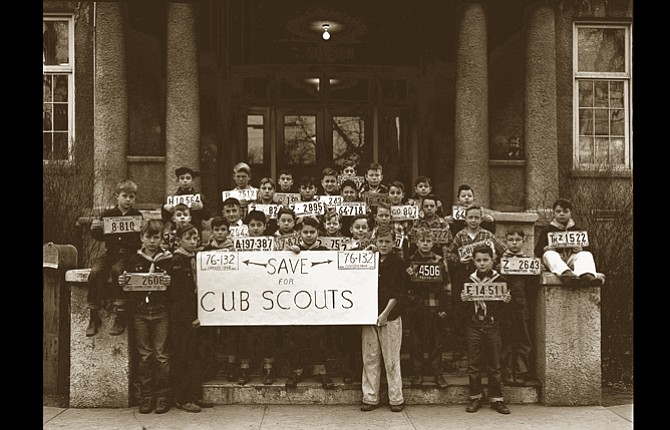 Lee Langston of Sherman County contributed to this week's report.
The History Mystery picture above was scanned from a 4 by 5 inch black and white negative from the archives of the Chronicle and Optimist. The negative envelope reads "Cub Pack, Jos. G. Wilson, Dec. 18, 1948.
The photograph was published in the Optimist Friday, Dec. 24, 1948. The cutline or caption read, in part, "Embarked on a drive for the next few weeks to collect old license plates from cars, to be turned in for their salvage value, are these members of Cub Scout Pack No. 580, Joseph G. Wilson school. Funds for handicraft materials, badges and achievement awards will be provided by this program, in which the boys will be paid for all plates turned in at the county clerk's office, the drivers' license office in the city hall and at garages. About 42 boys are registered cubs."
Last names of the boys included Clayton, Davis, Wiley, Schoenhaven, Hamilton, Flaman, Reed, Fillpot, Day, Haynes, Huskey, Tidyman, Hollingsworth, Statton, Duncan, Hayner, Reynolds, Forrstrom, Hill, Stewart, Olsen, Creighton and Ferguson.
Stories this photo appears in:

Looking back on Oct. 4, from the archives of The Dalles Chronicle.

Looking back on Sept. 27, from the archives of The Dalles Chronicle.