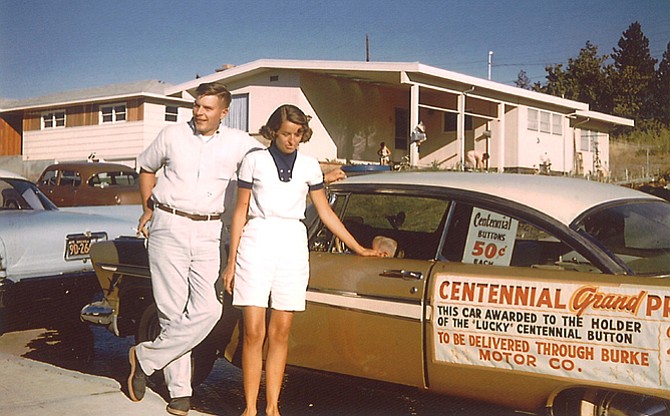 A number of people provided information about last week's History Mystery, above, including Mareta Maier, John Foley and Aggie Brown of Tygh Valley.
The photograph was scanned from a print submitted by Maier, and was taken July 4, 1957.
She said this is a photo of her brother, G.K. Hendricks, who won this 1957 Plymouth Fury by purchasing a 50 cent "coin" for a drawing held at a Fourth of July weekend celebration during Oregon's centennial year.
He was visiting his sister while on leave from his duties with the U.S. Air Force in Moses Lake, Wash. He bought the winning ticket in a fundraiser to get grass planted in Sorosis Park, which was bare dirt at that time.
Maier said she did not go to Sororis Park for the drawing because it was over 100 degrees and she was pregnant but, after seeing her brother's new car, she wished that she had. "I've never seen anyone so lucky in all my life," she told Hendricks when she saw his new ride.
The home in the background is located in the 300 block of West 21st St. in The Dalles. Foley said the car giveaway was through a Plymouth and Desoto dealer located where NAPA Auto is today.

Stories this photo appears in:

Looking back on Sept. 13, from the archives of The Dalles Chronicle

Looking back on Sept. 6, from the archives of The Dalles Chronicle.