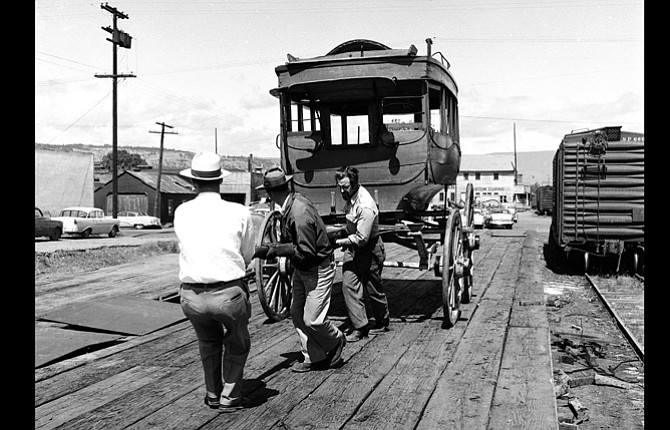 Mary Davis, Roger Mousolf, Gary Conley, Barbara Haskins and Terray Harman all contributed to this report.
Last week's History Mystery, above, is reproduced from a 2 ¼- by 2 1/5-inch black and white negative from the archives of The Dalles Chronicle. The information on the envelope reads, "Umatilla House Bus, May 26, 1959."
Mary Davis wrote, "this is the omnibus from the Umatilla House Hotel. It can be viewed at Fort Dalles Museum along with other historical vehicles used in The Dalles area. This "limo service" of the day was used in parades for many years."
Roger Mousolf and Gary Conley added the photo was taken across the tracks from the Oregon Cherry Growers at First and Madison streets downtown The Dalles. "In the background you can see what is now Wonder Works Children's Museum and part of what is now Jack's Auto Body shop," said Mousolf. Conley added the carriage is on the Union Pacific loading dock, and the picture may be related to its restoration. "It looks like they could use a little more help or some horses," he added.
Bill Johnson noted that the stage coach was used to pick up passengers at the boat dock and take them up to the Umatilla House. Barbara Haskins said that the man in the white shirt with his back to the camera was her uncle, F.W. Bud Hyatt, who was a station master in The Dalles with Union Pacific.
Stories this photo appears in:

Looking Back on May 8, from the archives of The Dalles Chronicle

Looking Back on May 1, from the archives of The Dalles Chronicle