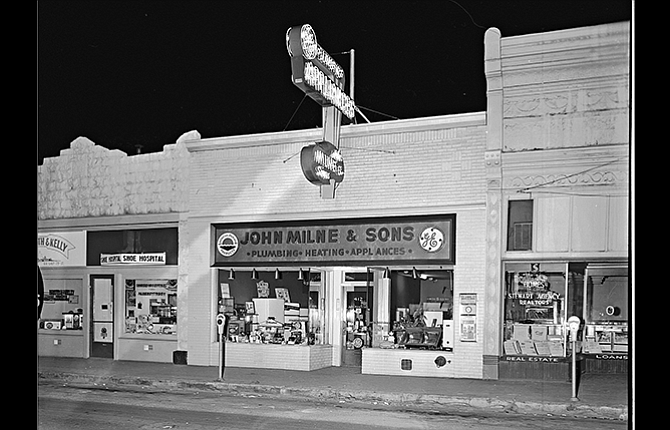 Jake Grossmiller, Carolyn Homer and Doug Milne all contributed to this report.
Last week's History Mystery, above, was scanned from a 4- by 5-inch black-and-white negative from the archives of The Dalles Chronicle. Information on the envelope reads, "Milne, John & Sons, night view, Sept 17, 1955."
Jake Grossmiller wrote: "History Mystery last Sunday is the 400 block of Second Street, south side, in the middle. Starting from left was Booth and Kelly Real Estate, now Bill's Barber Shop; Shoe Hospital, now Yesterday and Todays Music; John Milne Appliance, now West Wind Gallery; and Lee Stewart Real Estate, now Mike Courtney Insurance."
Doug Milne of Florida said the appliance store was owned by his grandfather John Milne. The oldest son of John Milne was Jack, who remained in The Dalles for many years and was a member of the city council.
Carolyn Homer, The Dalles, wrote that Milne was also a plumber. "He was a very good plumber," she said.
Stories this photo appears in:

Looking back on Dec. 18, from the archives if The Dalles Chronicle

From the archives of The Dalles Chronicle