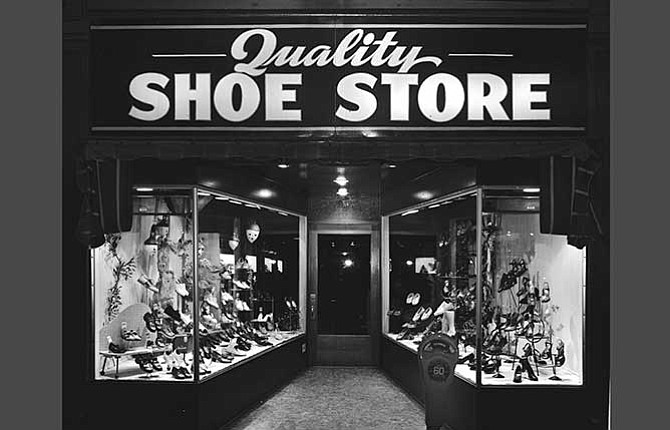 Tamara Quinton, Alene Thille and Lucile Stephens contributed to this report.
Last week's History Mystery, above, was scanned from a 4-inch by 5-inch black-and-white negative from the archives of The Dalles Chronicle/The Dalles Optimist. Information on the envelope reads, "Quality Shoe Store, Jim Themeles, Sept. 17, 1954."
Alene Thille wrote that in 1961, it was kown as the "Karl Shoe Store." It was on Second Street, across from Klindt's Booksellers. "I remember buying a pair of black patent leather shoes for $10 in about 1961," Thille said.
Tamara Quinton wrote that later, in the 1970's and '80s, it became Sharold's shoe store, owned by Harold Hays.
Lucile Stephens of Dufur wrote that she purchased her first saddle shoes at the store, when she was in high school, around 1949, 1950.

Stories this photo appears in:

Looking Back on Dec. 25, from the archives of The Dalles Chronicle.

Looking back on Dec. 18, from the archives if The Dalles Chronicle