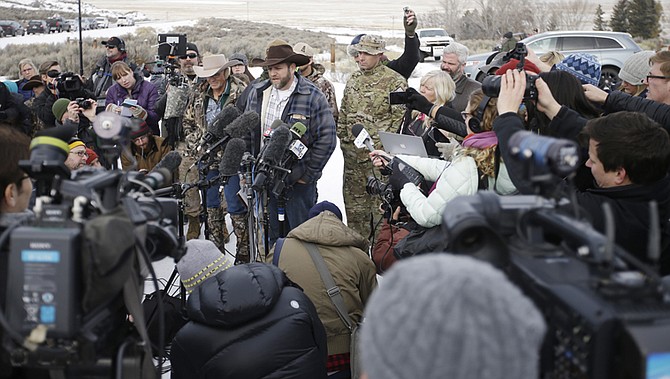 Ammon Bundy center, one of the sons of Nevada rancher Cliven Bundy, speaks with reporters during a news conference at Malheur National Wildlife Refuge headquarters Monday near Burns. Bundy, who was involved in a 2014 standoff with the government over grazing rights, told reporters on Monday that two local ranchers who face long prison sentences for setting fire to land have been treated unfairly. The armed anti-government group took over the remote national wildlife refuge in Oregon as part of a decades-long fight over public lands in the West.

Stories this photo appears in:

The following editorial ran Jan. 5 in the East Oregonian regarding the armed standoff in Harney County following the imprisonment of two ranchers: The case of Dwight and Steven Hammond is a tragedy, both because of what they did and how they have been treated since.

Two members of the Wasco County Sheriff's Office went to Harney County yesterday as part of a mutual aid request to help contend with an armed takeover of the Malheur National Wildlife Refuge.