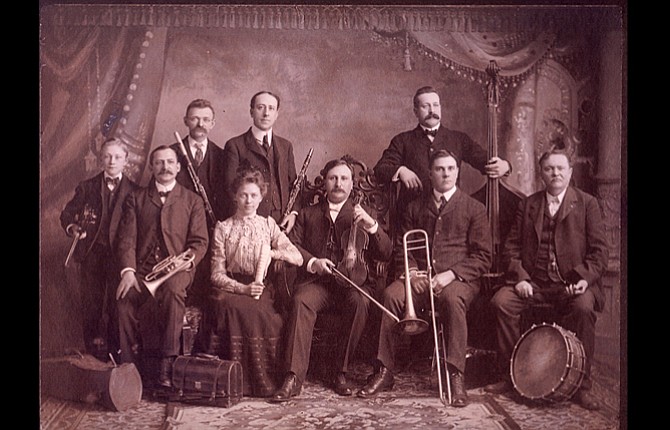 Terray Harmon, Juneith Clark, Bob Thomsen and Lucile Stephens contributed to this report.
Last week's history mystery photograph, above, was brought to the Chronicle by Greg Weiss of The Dalles. It is scanned from an 8 by 10-inch black and white photograph. Packaged with the photograph was a note signed by Bob Thomsen of Vancouver, Wash., who wrote, "This photo was taken in The Dalles before 1910 by famous Oregon photographer Benjamin A. Gifford (1859-1936). In 1910 Gifford moved his photography studio from The Dalles to Portland. The person I purchased the original (print) from bought it at an estate sale in The Dalles and was told some history about the band members, who were residents of The Dalles."
Suggestions as to the performers pictured included the DeMoss family and the Folies. The location was suggested as The Dalles High School, prior to its burning in 1940.
Do you have a historical photograph taken in Wasco, Sherman or Klickitat counties? Do you know the story behind it? We would love to feature it on our history page — send a digital copy via email to mgibson @thedalleschronicle.com, drop by the office at 315 Federal St., The Dalles, or mail to History Mystery, The Dalles Chronicle, P.O. Box 1910.
Stories this photo appears in:

Looking back on Jan. 17 from the archives of The Dalles Chronicle.

Looking back on Jan. 10, from the archives of The Dalles Chronicle.