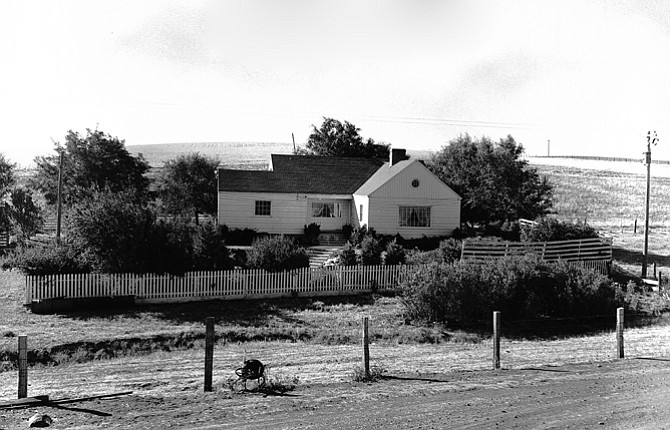 Roger Alford, Nancy Hammel, Diana Ezelle, Gary Conley, L. Comini and Bill Dodson all contributed to this report.
Last week's History Mystery, above, was scanned from a 4- by 5-inch film negative from the archives of The Dalles Chronicle.
The information on the envelope is extensive: The collection of negatives are related to an equipment and farm tour of the Leo Hammel Ranch with County Agent E. M. Nelson. The photographs are dated Sept. 27, 1951. The photos are credited to George Lindsay.
The photographs included images of the "Noble blade," a "rotary hoe" and a "deep furrow drill."
Roger Alford, who lives in the house today, said it was located nine miles east of Dufur on Center Ridge Road. The house is much the same today. "Now there is a big spruce tree behind the house," he said.
Nancy Hammel agreed this is the home of Leo and Madeline Hammel. "They built the home in the mid 1940's and lived there until approximately 1957, at which time they moved to The Dalles.
"After they moved to The Dalles their son Leo (Bud) Hammel Jr., his wife Roxie and their young family moved into the home. They raised their family and grew wheat and cattle on the ranch until Bud retired in 1980. They continued to live in the house until 2004.
"Bud and Roxie have both passed away, however the ranch remains in the family and is being farmed by the 5th generation of Hammels."
A number of callers pointed out that the store featured last week, Stadelman Hardware, is located in the building now housing KODL Radio and others, not where Hampton Furniture is currently located.
At right is an additional photo from the Hammel Ranch.
Stories this photo appears in:

Looking back on July 24, from the archives of The Dalles Chronicle

Looking back on July 17, from the archives of The Dalles Chronicle.